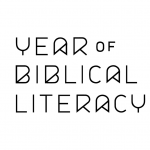 Episode 102 announces a new effort by the Restoring The Core Initiative to engage in an online version of the Year of Biblical Literacy. The crisis of biblical illiteracy within the church has not gone unnoticed in recent years. This episode contains a "Call To Action" to encourage and exhort our fellow believers in Christ to enter into a deeper knowledge. understanding and appreciation of the Bible, the Written Word of God, to strengthen our relationship with God in Christ, the Living Word of God.
Our Year of Biblical Literacy is patterned on similar initiatives by Reality Church San Francisco and Bridgetown Church in Portland, Oregon. Our version is customized to be a web-only project.
Our quest begins on Sunday, July 1st 2018 and concluding on Sunday, June 30th, 2019. The Year of Biblical Literacy will structure our involvement with the Bible on four distinct levels
1.Individual; 2.Group; 3.Worship (sermons); 4.Educational
The main page for Restoring The Core's Year of Biblical Literacy  supplies details on how each level works. Links to numerous resources for each level can be found at the Resources page. You can find the readings, Psalms and videos for the week hyper-linked under the Menu tab "Year of Biblical Literacy" and then "Map to the Weekly Readings."
It is my prayer that you will join us in this quest to engage further with Scripture. Whether you are a seasoned reader of many years of taking in the Bible or are rather new to it, I believe that all of us can benefit by this deeper interaction with the Bible, the very Word of God.
The "Call to Action" is in both audio form as Episode 102 but is also available here in transcript form as a pdf as well as at the Call To Action page.
Player and Download links are below