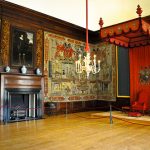 Episode 106 centers on a discussion about God being in all places at the same time (omni-presence). As a result, we never truly leave His presence.
Several writers of the past have likened this to an encounter that a citizen of a kingdom would have with his  king or queen in a special room designed for such meetings. A Presence Chamber would be the place of such an encounter. This analogy is useful in helping us to understand the importance of knowing that with God in Christ, we never leave the divine Presence Chamber.
This episode also feature a reading from F.B. Meyer's book "The Secret of Guidance." The reading is from Chapter 8 is entitled "In The Secret of His Presence." A link to this book on the Christian Classics Ethereal Library website can be found here.
Inserted photo is of the King's Presence Chamber at Hampton Court Royal Palace – London – thenenchantedmanor.com
Player and Download Links are below: